Atelier de joaillerie contemporaine à Québec, QC
Fondé par Emily Lewis et Marie-Hélène Bélanger, Studio METHOD(E) est un atelier de joaillerie contemporaine se spécialisant dans l'utilisation et l'enseignement de techniques alternatives et de matériaux alternatifs. Repoussant sans cesse les limites de la tradition joaillière, les fondatrices explorent toutes les avenues possibles, utilisant tous les matériaux et concepts qui les fascinent.
Inspiration- created landscapes
Amazing and inspiring installations and paintings or created landscapes.
I am not generally a fan of traditional realistic landscape painting. I appreciate their value and can apprectiate technical skill, i could certainly not paint a realistic landcape. I am, however, enamored with some beautiful interpretations of landscapes, or art that creates a whole new world. Our environment is so fundamental to the story of our lives,  imaginary environments can be the beginning of a new narrative and can also help manipulate how we see the actual world around us.
I am sharing some art and artists that I have been collecting who create their own environments or interpret different environemtns so we can see them in a new way.
If the Desert Could Talk  Acrylic on wood panel, 38×55 in, 97×140 cm
Dean Monogenis' work is inspired by architecture and the tension of its existence in certain environments. Though the landscapes themselves are not fully imaginary, the addition of these fantastic buildings and forms creates an unexpected addition to these remote places. I love how the flat colours create a piece that looks almost computer rendered but they are in reality paintings.
The Other Way, Acrylic on wood panel, 16×20 in, 41×51 cm
Here is an excerpt from his statement explaining the roots of his work:
"Besides their practical usage, I had never regarded buildings or architecture as more than symbols or monuments to someone else's memory or beliefs. This changed after witnessing the fall of the world trade center. Subsequent to that day, I began to see buildings organically in terms of birth and death."
It Starts with Legos, Acrylic on wood panel, 48×48 in, 122×122 cm
Landscape, 2003, Ink and oil on panel
Whitney Bedford is an artist based in Los Angeles. She has a wide practice, but she also creates these dreamy landscape paintings. I love her use of soft colours in strong contrast with the occasional burst of bright colour.
Elskov,  2012, Ink and oil on panel
Inside Out (Oleo-lienzo), 2013, oil on canvas, 60 x 80 cm
Paco Pomet is a Spanish painter who manipulates existing landscapes, creating surreal environments. He uses traditional cues from landscapes and puts them together in new ways , deconstructing imagery and putting it back together to create a new kind of landscape. These images are from his Scapelands series.
Eden , Oil on canvas, 130 x 170 cms                         D Day, Oil and acrilic on canvas, 130 x 170 cms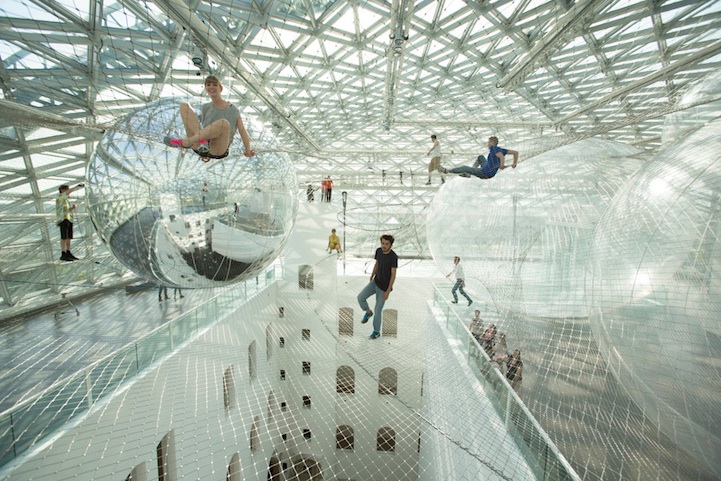 In orbit at Kunstsammlung Nordrhein-Westfalen, K21 Ständehaus
Tomas Saraceno is an Argentine artist who creates beautiful installations. He is not working on a flatground, but is sctually intervening in specific environments and creating dreamworlds in which people can exist and with which people can intract. These structures are giant and time intensive. To create the mesh structures above he worked with a team of engineers, architects and biologists (studying spiders) for over three years.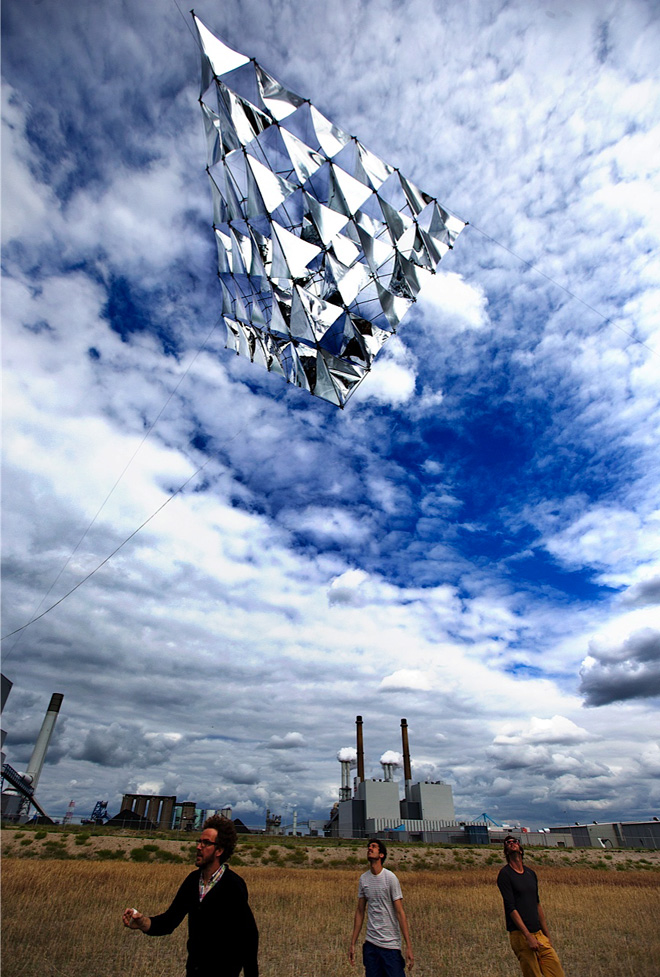 The above piece is a concept object designed around the idea of floating cities.
His ideas are poetic and touching, the final products have a simplicity of design that can only come from a depth of research and experimentation.
Watch the video for his project "Poetic Cosmos of the Breath".
<iframe width="640″ height="390″ src="https://www.youtube.com/embed/qHOsO-IYpbw" frameborder="0″ allowfullscreen></iframe>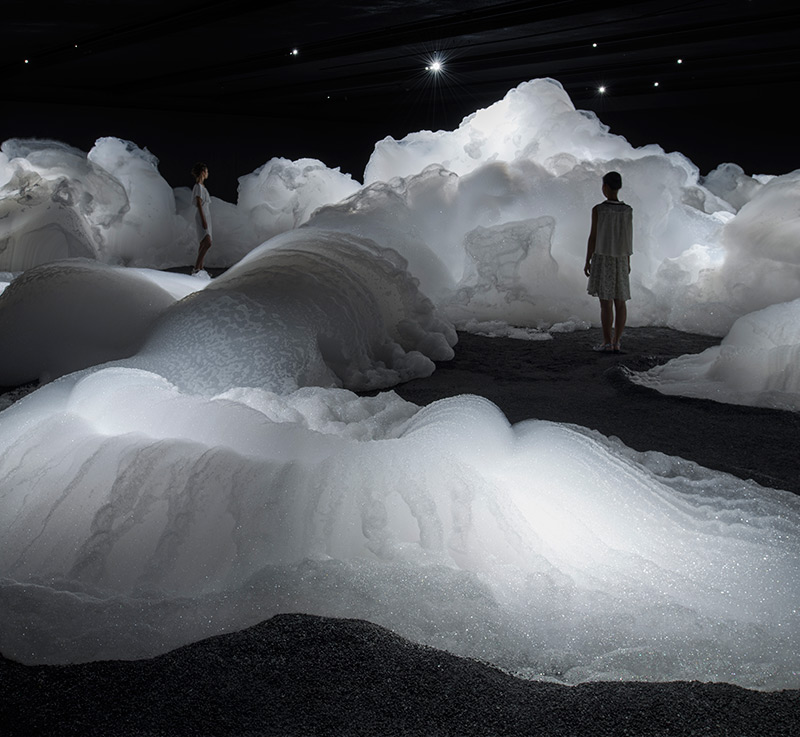 Japanese artist Kohei Nawa has created this otherworldly landscape for the 2013 Aichi Triennale. This piece is titled "Foam" which speaks of its light feeling.